CLICK & COLLECT - AVAILABLE NOW!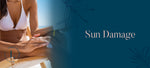 Sun Damage / Pigmentation
UV/ Sun exposure is the number 1 cause of accelerated ageing of the skin. Skin changes can occur due to daily UV exposure or hormonal changes as we go through life. This can often lead to hyper pigmentation or "dark spots" occurring which are often harmless. Targeted skincare is important to protect the skin both pre and post sun exposure. We strongly advocate the wearing of an SPF daily to insure you are protected.