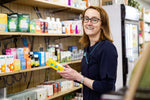 The importance of Vitamin D Supplementation against COVID-19.
Author: Pharmacist Kate Kennedy
A few years ago Vitamin D was described as the miracle vitamin. The vitamin that we didn't know much about! It was only coming to the forefront in relation to the role this vitamin played in certain auto immune and neurological conditions that many people in Ireland suffer from.
Now recent studies have shown strong evidence between vitamin d and the reduction of the risk and severity of acute respiratory tract infections and SARS-CoV2-infection.
Vitamin D is a steroid hormone that is made in the body from the effect of UVB irradiation on the skin, or consumed from exogenous dietary sources or supplements.
Vitamin D deficiency is common in Ireland, particularly among older adults, hospital inpatients and nursing home residents but also among younger ages (18-39 yr olds). We are all working more inside and also we do not get sufficient sunshine in Ireland to make enough Vitamin D for enhanced immune function, especially during wintertime.
Our dietary intakes of Vitamin D are low. Despite having the best milk in the world, we, as a population do not take in enough Vitamin D in our diets.
Adults in Ireland require vitamin D supplements containing 20-25 micrograms per day (800-1000 iu/day).
Benefits of the require dose:
Essential to keep bones, teeth and muscles healthy

A heathly heart

Vitamin D is vital to increase the bodies serotonin which keeps us in a good mood.

To enhance their immunity against Covid-19.
Supplementation with doses up to 100 micrograms per day (4000IU per day) are safe and do not cause any side effects.
Supplements containing Vitamin D are cheap, safe, simple to take and are widely available over the counter in pharmacies without prescription. Brands such as Pharmanord, Revive and Immune Active have some really good products and I would put a lot of faith in these brands.
So whatever brand you pick, equip yourself and let Vitamin D be your favourite vitamin for 2021!
Click here to view our Immune support and energy products.